Chairman Message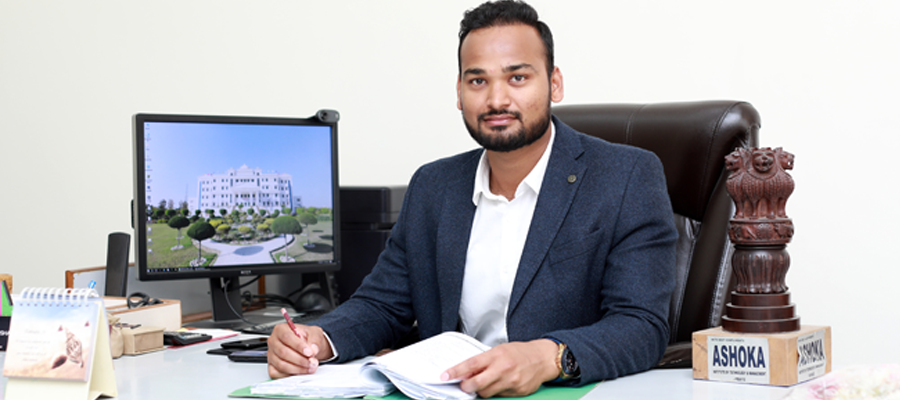 Er. Ankit Maurya
(Chairman)
Dear Students ...
I, with immense pride, announce that Ashoka Institute of Technology and Management, Varanasi - a unit of Surabhi Charitable Trust is on the threshold of entering its 11th year. In the past years of glory and glee our students have repeatedly made us proud by getting appeared in AKTU merit list. With these achievements to our credit, the institute has rightly earned glittering reputation and excellence in the field of Engineering, Pharmacy and Management Education.
Today we are proud and humbled by the success of our persistent endeavor to disseminate knowledge globally. For realizing this endeavor; we are continuously pursuing a challenging curriculum which provides opportunities for academic achievements, personal growth and professional development. We meticulously scale greater heights of excellence meeting reposed expectations of society.
We work towards molding our students into dynamic professionals as they tread the path of countless successes. Our students are positively encouraged to make presentations on topics pertaining to their academics as well as those of recent emerging interests. Moreover they are trained to face constructive criticism by the ambience created to them. These steps have not only aided the development of students but also have given a 100 % leap in their placements.
Our institute is known for providing "winning code" to students by the help of our esteemed and well qualified visiting faculties who impart the best practices of education and of the corporate world. In addition, the geographical location of the institute in the midst of the holy city Varanasi helps students cultivate a business oriented attitude with calm persistency. Time and again it has proved to be immensely conducive for their career growth.
I welcome you to explore all the dimensions that make our institute, fountain head of prospective technical & managerial talent in Varanasi in Engineering, Pharmacy and Management.
Vice Chairman Message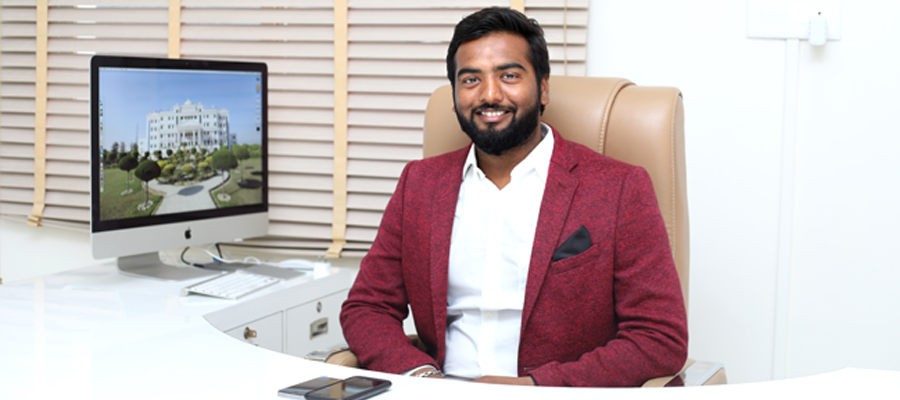 Mr. Amit Maurya
(Vice Chairman)
Dear students ...
"We cannot always build the future for our youth, but we can build our youth for the future." Franklin D. Roosevelt
The above lines of Franklin D. Roosevelt are indeed true in today's altering state of the corporate, thus the institute working on the philosophy has stepped in 2015-16 session crossing 5 flourishing years. We have grown in size, variety and quality in Technological and Managerial education that is imparted to the pupils far and near. Through these milestone years we have brought the students the best of all.Walking a long way since 2010, with B.Tech. , B Pharma and MBA we are on zenith in Engineering, Pharmacy and Management Education.
It is a matter of great pleasure and pride that the institute is providing an excellent quality education and mentoring the students, aspiring to be competent professionals in Technology and Management research projects under AICTE funding. The endowments have been initiated in the institute for the benefit of students, faculties and in the development of this region as well as for the society at large.
With the student's strength of two thousand at ASHOKA, our efforts are directed to accommodate and address the expectation of every student by the way of enabling them to participate in seminars, workshops, and out of the institute giving them the groomed exposure apart from educational tours and industrial project works. Our Institute has state of the art infrastructure, facilities, ambience and organizational culture to nurture your thinking and understanding in your pursuits to perfect your professional knowledge and competence. To refine the necessary attitude, aptitude and skills to achieve placement in corporate sector, the institute is supportive to the students by arranging periodic test and group interaction exercises. The institute is on the course to raise its global prominence. To enhance its position as an alleged leader in Technical education and thought generation, ASHOKA is further strengthening its research base and inspiring diversity in perspectives. So heartily welcome to you all for being a future milestone of ASHOKA.
Director Message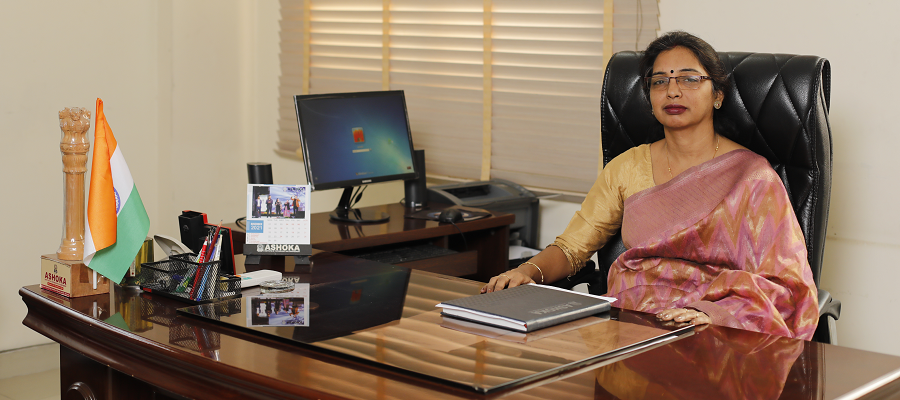 (DR.) Sarika Shrivastava B.Tech., M.Tech., M.B.A., Ph.D. (Electrical Engineering)
(Director)
I am delighted to welcome you in Ashoka Institute of Technology & Management, an institution committed to leveraging its facilities & system of world class standards to provide quality education in engineering, pharmacy & management & prepare our students for a global sojourn. Ashoka Institute is acknowledged as a state leader in teaching and learning, student relationships and wellbeing.
Our credo is holistic development of each student & inculcation of values & ethics to build lifelong learning systems. We are committed to provide the right ambience and academic environment to each student for unleashing their full potential, thus helping them reach glorious heights of professional excellence. World-class infrastructure, green Wi-Fi campus, state-of-the-art amenities united with a galaxy of competent, talented and dedicated faculty contribute to an enjoyable and conducting learning experience. Our distinguished faculty from IITs, IIMs, NITs, renowned universities, international laboratories & top industries are at the forefront in research & involved in development & implementation of innovative ways of imparting education to enhance student learning. We have well equipped, research oriented labs and rich library to help students in attaining highest standards in academics, research and professional skills. AHOKA engages closely with organizations across industries and sectors to co-educate and develop managerial talent, to co-create new ideas and understanding. The campus also has ample infrastructure for indoor & outdoor sports. The Institute is committed to serve our students in such a manner that they are able to uncap their talent and transform themselves into creative, sensible and committed technical manpower dedicated to serve the nation.
My heartiest congratulations to you, for choosing ASHOKA as your Alma Mater.
I wish you all the very best for a memorable, meaningful and enjoyable time in Ashoka Institute and hope that you with your good deeds will enhance the pride & prestige of this prestigious institute.
Director Pharmacy Message
Prof. (Dr.) Anurag Mishra
Director (Department of Pharmacy)
To convert the trails of possibilities into highways of growth and development with commitment.ASHOKA is devoted to foster quality education, relevant research and development in attitude and aptitude both. The institute offers programs in Technology (B. Tech) covering six branches, in Pharmaceutical Sciences (B.Pharm), & in Management with dual specialization (M.B.A.) as well. Needless to state, after being awarded the degree, you will experience a truly special phase of exceptional intellectual maturity and personal growth. We encourage you to become involved with the learning process and decisively engage your classmates, teaching faculty and administration in the same.
The serenity of college campuses makes the environment conducive for effective learning and teaching. Strong infrastructure such as modern classrooms, well equipped labs, central library with quality books, girls hostels, Computer labs with internet facilities. Seminar halls, tarred road, drinking water, Canteens & play grounds are some of the amenities provided for our students. The college is making efforts to rise to the level of a world class institution to create new horizons in the arena of technical education and research. The young dedicated and qualified faculty members are waiting to receive and lead you towards an excellent academic career for your better tomorrow.
Further, all the Heads of academic units constantly motivate the faculty and students to nurture academic quality and academic research integrity. The scientific values are nurtured in each department so that we possess values with pride and practice it with pleasure.
This is also the time that we consolidate our strength and move forward with firm determination to pursue the thrust area research for the benefit of our nation's economy. We need to inculcate world class outlook and world quality into the college system with focus on research and development and at the same time ensure industry relevance of our research output.