CIVIL ENGINEERING
Civil Engineering is the mother of all engineering branches. This department provides, Laboratories, sessionals and site visits apart from regular classes. Various laboratories like surveying, computer aided drafting and design, engineering geology, structural engineering, soil mechanics and foundation engineering, fluid mechanics, hydraulics machines and cement and concrete, are provided with the latest equipment and give practical exposure to the students. The department provides exposure to the students, making them aware about various materials, transportation, and computer aided design, etc. Also, the Sessional classes provide students with an opportunity to work with the latest technology. After completion of this course there are plenty of opportunities for students in Govt., Public and Private Domain as a civil engineer.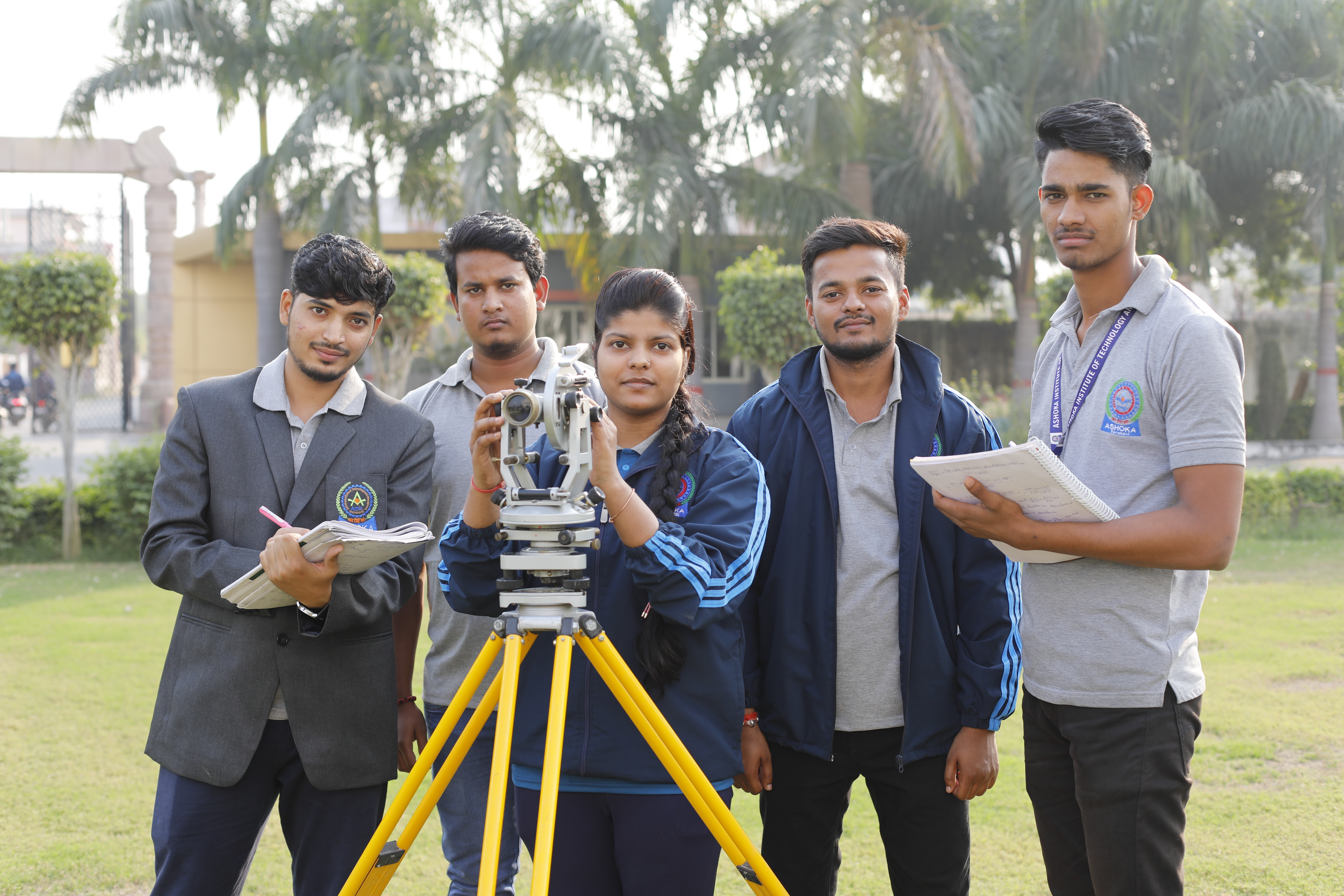 Laboratories and Other Facilities
Civil Engineering laboratories are equipped with high quality equipment procured from internationally famous manufacturing firms.
Environmental and Pollution Control Laboratory
Environmental and Pollution Control Laboratory is equipped with-state-of-the-art equipment to test the pollutants in air and water. In this lab BOD (Biochemical Oxygen Demand) & COD (Chemical Oxygen Demand) are also determined in the waste water and further, suggestions are made for the treatment of the same.
Concrete Laboratory
In this laboratory students learn about testing compressive strength of concrete. Students are taught to design concrete of required compressive strength after determining the basic properties of ingredients, namely, cement, coarse aggregates, fine aggregates and water.
Surveying Laboratory
The Surveying Laboratory enables students to understand the basic principles of surveying by conducting field exercises using surveying equipment like compass, levels, theodolite, total station, plane table, etc. Most of the field exercises are conducted outside the laboratory room to gather field survey data using state- of-the-art surveying equipment. Reduction and calculation of the field data for final results are performed in the laboratory room.
Geology & Geo-technology Laboratory
These two laboratories are necessary for a Civil Engineering student to gain the insight of Civil Engineering. In Geology lab the students learn to identify the various stones, rocks and also study about the faults, fissures, dips, strikes, etc.In Geo-technology laboratory, students learn about various properties and behaviour of soils.
Transportation Engineering Laboratory
In construction of highways, various materials are used. These materials are supposed to meet the strength, abrasion impact, properties as laid down in IRC Codes. The laboratory is equipped with state-of-the-art equipment procured from AIMIL.
Hydraulics & Hydraulic Machines Laboratory
This laboratory has state of art equipments to understand the behaviour and properties of water and verify certain theorems related to fluid flow. The characteristics of fluid or hydraulic machines like Centrifugal pump, Pelton Wheel, Francis Turbine, etc., are also studied.
Structural Engineering Laboratory
This laboratory teaches students the behaviour of various structural elements like columns, beams, trusses, etc., under different support conditions. The various theorems of structural engineering are also verified by seeing the actual behaviour under different loading and support conditions.
SERVICE FEATURES
Department is having highly qualified and experienced Faculty to cater the need of our future generation.
Department is equipped with high quality equipments and Labs.
Workshops, Labs and Field Survey are the most important part of our Curriculum.
Department aim to prepare Scholar like 'ARJUNA' The warrior of tomorrow through focused approach.
Curriculum of Course