PHARMACY
The Department of Pharmacy was established in 2010 at Ashoka Institute of Technology and Management, Varanasi. Department is approved by All India council for technical education (AICTE) and Pharmacy council of India (Approved for course conduction), and affiliated to Uttar Pradesh Technical University (UPTU), Lucknow. Pharmacy is the health profession that links health sciences with chemical sciences and is charged with ensuring the safe and effective development and use of pharmaceutical drugs. After Successful completion of this course students can start their career as Drug Inspector, Hospital, Clinical or Community Pharmacist, Chemist, Drug and Food Analyst, Production Manager, Product Manager, Research and development executive, junior Scientist.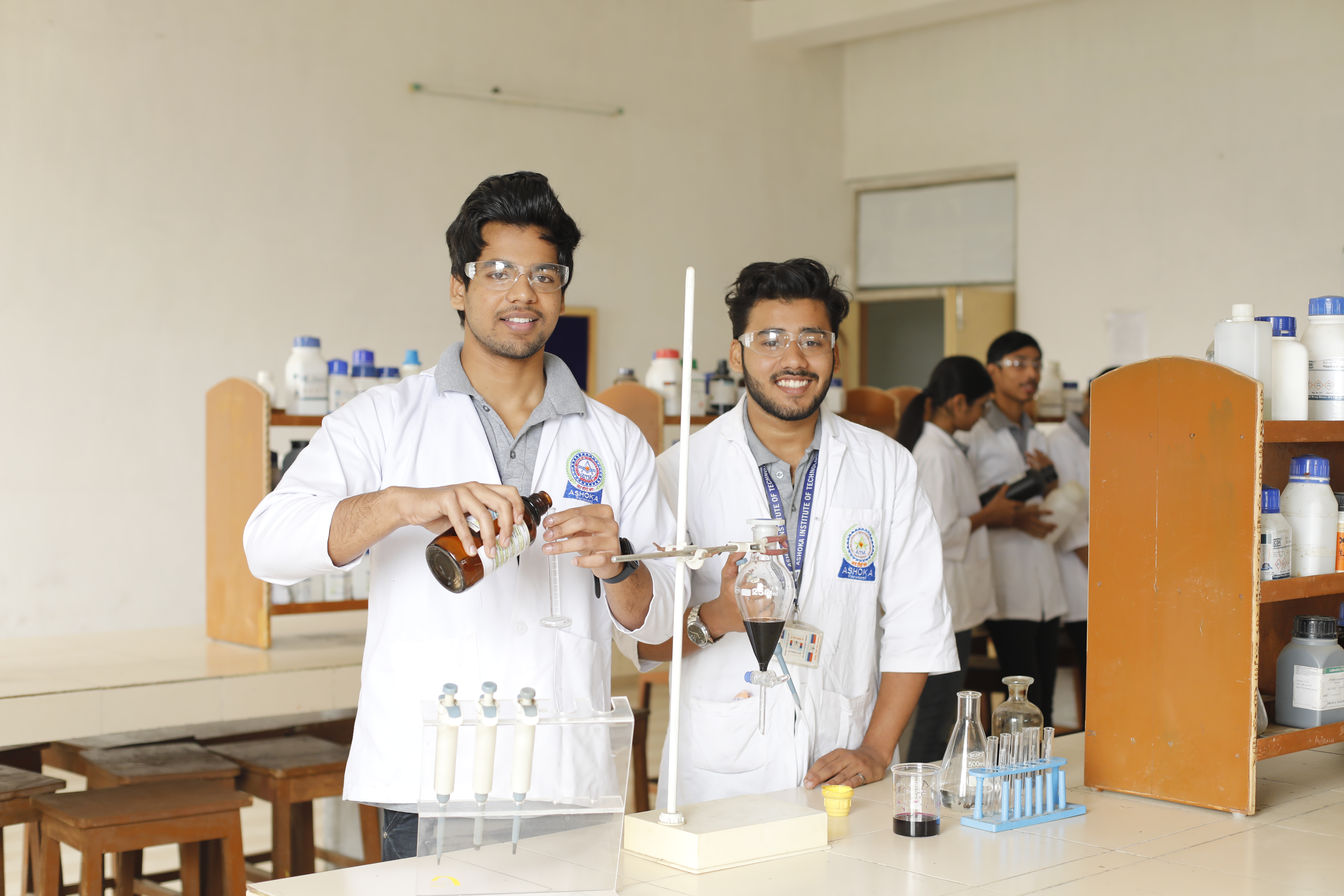 Laboratories and Other Facilities
Pharmaceutics Laboratory I,II and III
Here study of different dosage form and dispensing of drugs takes place. Different quality control test also done here.
Pharmaceutical Chemistry Laboratory I and II
In this laboratory students learn about different drug assay and to establish the standard for different API (active Pharmaceutical Ingredient) and excipient. Students also learn to synthesis and finding of new chemical entity.
Pharmacology Laboratory I and II
In this laboratory students learn how to analyse therapeutic activity of a drug substance.
Microbiology Laboratory
Here students learn about the effect of drugs on microbes by different methods.
Pharmaceutical Analysis Laboratory
In this laboratory students come to know the exact structure and standards of drug through different instrumental methods like chromatographic and spectroscopic method.
Sophisticated Instrumentation Room
In this laboratory students come to know the different instrumental methods like Chromatography, Spectroscopy and Rheology.
Computer Laboratory
In this laboratory students learn the basic application of computer in the field of pharmacy.
Machine Room
Here students come to know about different machines utilized in Preparation of pharmaceutical dosage form like Tablet, Syrup, Capsule and Injectables.
Pharmacognosy Laboratory
In this laboratory students know about the crude drugs and their extraction procedures.
Botanical Garden
In the botanical garden there are several medicinal plants which are utilized in the study of Pharmacognostic purpose.
SERVICE FEATURES
Department fully equipped with ten Laboratories.
All faculty members are highly qualified and experienced.
Emphasis on learning through practical exposure and observation.
The course curriculum (syllabus) is made as per the need of the industry.
Emphasis on learning through seminar and workshops.
Curriculum of Course