MECHANICAL ENGINEERING
Mechanical Engineering is one of the core branches and its principles are involved in the design, study, development and construction of nearly all of the physical devices and systems. Continued research and development have led to better machines and processes helping the mankind. Mechanical Engineering is having major sub branches like design, thermal, automation, manufacturing engineering, and energy engineering. It is arguably the broadest of any engineering branch. Technologies like CAD, CAE, CIM, and PLM etc. have been the driving factors for evaluation of product life cycle by revolutionizing conceptualization, design detailing analysis and manufacturing procedure.
All the workshops and laboratories are equipped with quality machines and equipments. Complete safety is ensured while the students work or learn on the machine and equipment. All laboratories are quite spacious, properly ventilated and comfortable for learning and performing experiments.The Department of Mechanical Engineering at Ashoka Institute attracts an extraordinary rich diversity and talented individuals in teaching and operational areas. With excellent teaching and learning environment it provides a platform to instill high motivation, moral values and leadership in its students. Mechanical engineering graduates can build his career in several fields such as Automobile, Production, Manufacturing, Aerospace, Design, Maintenance, Power-Plant, Automation and Robotics and Thermal Engineering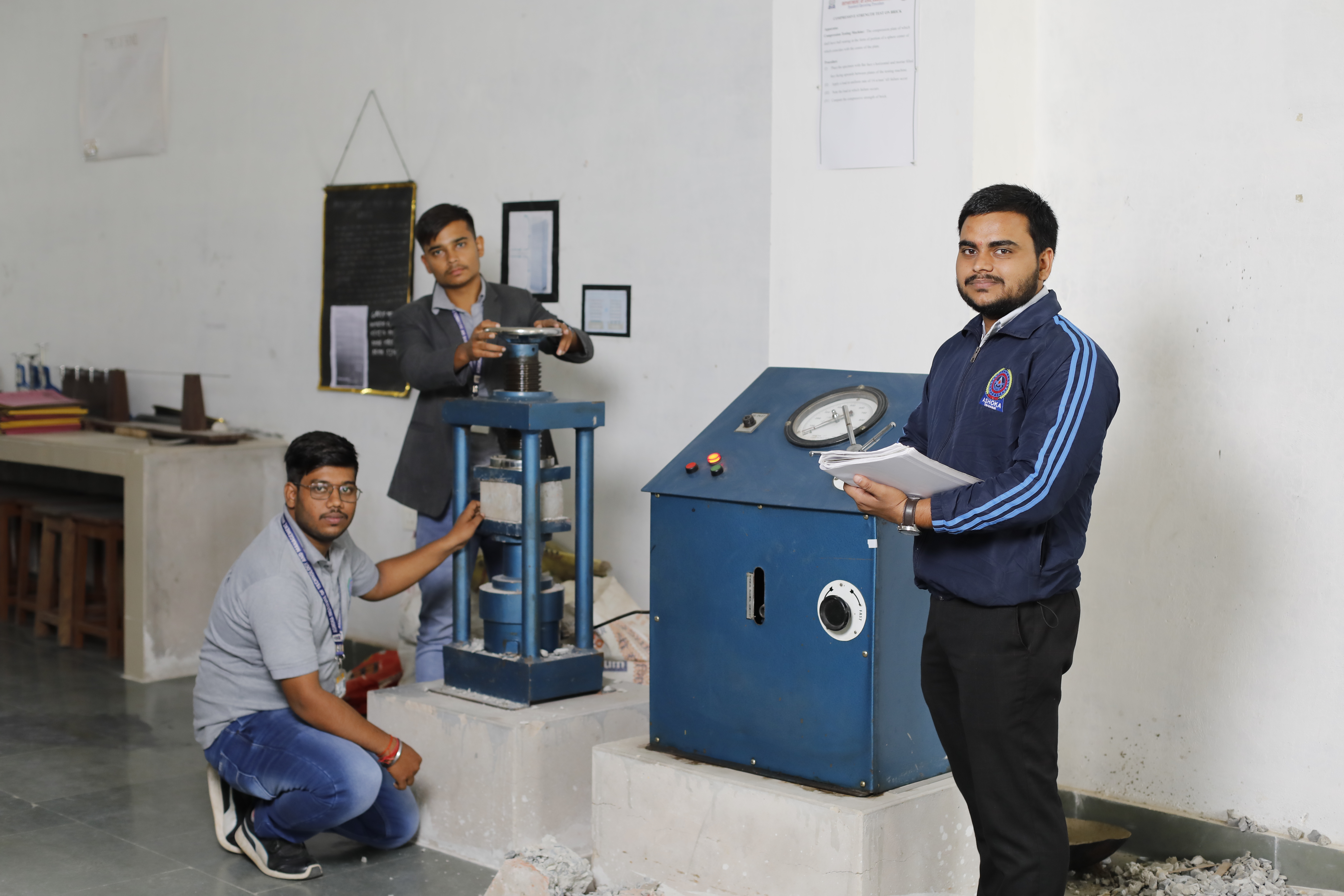 Laboratories and Other Facilities
Workshops (Machine shop, Fitting shop, Foundry & Welding shop, Carpentry Shops)
Students are given thorough knowledge of machine tools and operations, like plane turning, step turning, taper turning and threading on lathe machine. Drilling machine is used to assist operations being carried out in other shops. Apart from being utilized for curriculum requirements, the Machine Shop also serves miscellaneous machining requirements of other laboratories, e.g. Material Science and Testing Laboratories, Engineering Mechanics Laboratory etc. The Machine Shop, as a matter of fact, also turns out to be most liked shop amongst the students.
Automobile and Thermodynamics Laboratory
In this laboratory students learn the workings of various Internal Combustion Engines like two Stroke one Cylinder Scooter Engine; four Stroke one Cylinder Scooter Engine; four stroke four cylinder Diesel Actual Engine. In addition, students get an idea about working operation, construction details of gasoline and diesel engine systems like fuel supply system, lubrication system, cooling system, ignition system
Hydraulic Laboratory
Fluid Mechanics laboratory offers equipments for experimenting with and analyzing water and air flow behaviour. Here we analyze all those concepts that we study in theory classes. A few of the experiments include verification of Bernoulli's theorem, evaluation of capillarity and surface tension effect on different diameter capillarity tubes, measurement of coefficient of discharge for various devices like Orifice meter, Venturimeter, etc.
Material Testing Laboratory and MS Laboratory
The Material Science and Testing Laboratory is one of the biggest laboratories owned by the institute. Micro structural examination and mechanical testing are two major categories of the experiments conducted in this lab.
Theory of Machines Laboratory
In this laboratory students learn about Dynamic Vibration and Shaker Systems
Heat & Mass Transfer Laboratory
In this laboratory, heat transfer processes are experimented upon, e.g., conduction, convection and radiation and material's thermal properties are determined such as thermal conductivity, emissivity, heat transfer effectiveness, etc.
CAD/ CAM Laboratory
Computer-aided Design (CAD) is used to design curves and figures in 2D; or curves, surfaces and objects in 3D. The applications include designing in automotive, shipbuilding, and aerospace industries, architectural design, strength and dynamic analysis of assemblies, research in computer graphics, etc.
SERVICE FEATURES
Unique laboratories for CAD/CAM, Metrology, RAC, etc. which are important for mechanical engineering education.
Superbly equipped fluid machinery, automobile, material science and testing laboratories.
An excellent heat transfer and thermodynamics laboratory.
Excellent workshops.
Manufacturing science laboratory with advanced machines.
Mechanical Engineering Department is having highest number of faculties. They are the torchbearer for the student and perfect blend of Knowledge and Experience.
Curriculum of Course